Blake Colston
sports@piedmontnewsonline.com
​Piedmont head softball coach Keith Coleman, outfielder Noodle Owen and starting pitcher Chloe Bohuslavicky will all have something in common when the Lady Wildcats (28-6) take the field Thursday at 4 p.m. in their state tournament opener against Shawnee (24-10) at Hall of Fame Stadium in Oklahoma City.
Each will have nerves to contend with and each will have a different perspective on how to handle them.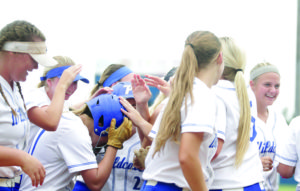 Coleman will make his 14th state tournament appearance as a coach and said he'll have a simple message for his team before they take the field.
"Be who you are," he said. "Don't all of a sudden try and do different things and go away from what your identity as a team is."
Nerves, though, aren't something he would discourage.
"For the first time all season, it's win or your season is over," he said. "It's different than anything you do so they're going to be there."
Playing in front of a large crowd won't be a new experience for Owen. The senior has as much state tournament experience as any player on Piedmont's roster having been in the dugout as a freshman during Piedmont's 2014 run to the state title game and a key cog as a sophomore on its 2015 state quarterfinal team.
Her time as part of the Piedmont softball program will come full circle, in a sense, Thursday afternoon. Owen served as a bat girl on Piedmont's first state tournament team a decade ago. Now she'll take the field as one of Piedmont's best hitters and starting left fielder.
Owen is batting .438 with 24 RBI's, good for second on the team, with three home runs this season.
She doesn't remember much about her time as a bat girl in 2007 when the 'Cats were a strike away from a state title, but said she looked up to McKenzie Clemmons, a starter for that Piedmont team who is, ironically, a member of the Lady Wildcats coaching staff this season.
It would've been hard to foresee any of what's happening now back then.
"Didn't see that one coming," Owen said.
As a veteran on this team, Owen has given advice to Piedmont's younger players like Bohuslavicky on how to handle their first state tournament game.
"Just not to get too nervous even though so many people are in the stands," Owen said. "Just go out and play like we always do."
Owen admits she didn't take her own advice two years ago.
"I was so nervous," she said.
But Owen played well and even made a catch to keep Piedmont alive in an extra-innings loss to Carl Albert in 2015.
"Don't drop it and don't fall down," she said of what went through her mind then.
Bohuslavicky is Piedmont's unquestioned ace in the circle as a sophomore. She's 16-6 this season with a 1.35 ERA. In 123 2/3 innings, Bohuslavicky, a Northeastern State commit, has allowed just 109 hits.
She plans to remind herself of one thing Thursday afternoon.
"I'm going to be nervous, that's just how it is," she said. "But I'm going to do my best to stay calm for me and the team. I have my same teammates behind me and we're the same team we have been all season."
QUICK HITS: Piedmont is making its 11th state tournament appearance in program history, but is looking for its first state title. The 'Cats have played for the championship three times, in 2007 against Tuttle, in 2014 against Chicksha and most recently in 2014 versus Oolagah.
For more news, sports, and community stories, subscribe to the Piedmont-Surrey Gazette by calling (405) 373-1616.