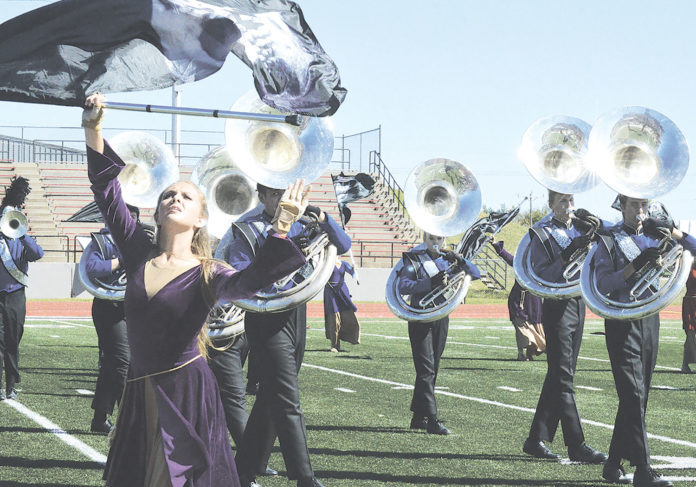 By Traci Chapman, Contributing Writer – Piedmont High School's Pride of Piedmont marching band had another strong showing last weekend, as its "1347"" program garnered a top 10 finish at the annual Nightrider Invitational.
Piedmont took seventh overall in the Mustang High School tournament, out of an original 16 competitors, as it faced several much larger bands. While its placement mirrored the band's achievements in the Sept. 30 Yukon Invitational, the Pride's Mustang scores evidenced the band's upward competitive trajectory.
Piedmont's NRI tally was 71.90, more than five points greater than its Yukon Invitational final 66.35 total.
The Birdville, Texas, Mighty Hawk Band took first place at NRI, as well as receiving music and general honors, while Edmond North High School's score garnered second place overall and a visual effect caption award. Westmoore, Southmoore, Stillwater and Edmond Santa Fe were awarded third through sixth place, respectively, while Carl Albert, Putnam City West, Yukon, Sapulpa and Norman placed eighth through 12th of the 12 bands that participated in finals competition.
Piedmont's show tells the sobering story of the Black death, a bubonic plague epidemic that arrived in Europe in October 1347 and which, by its end, killed an estimated 25 million people – at that time, roughly 30 percent of the world's population.
"The show follows a family that is affected by the plague by the loss of the child and later the husband," director Dalton King said. "The widow then maneuvers through her life, trying to escape the plague, and her fate will be found out at the end of the show."
The show is reminiscent of other recent Pride shows, such as "The Manhattan Project," performed in 2016, and 2015's "The Lost Generation." Instead of following the route of many marching bands and finding a lighter, more entertainment-only program, Piedmont combines music, choreography and drill with education and information, bringing focus to a particular era through marching, a move that has garnered the band much success.
The music for "1347" is a range of styles and composers, King said – including Chopin's Piano Sonata No. 2 in B-flat minor; Incantation and Shadow Dance by Barry Kopetz; Goddess of Fire by Steven Reineke; Danse Macabre by Camille Saint-Saëns; 'Dies Irae' from Verdi's Requiem; and Berlioz's Symphonie Fantastique.
Piedmont's last tournament of the season is this Saturday's Oklahoma Bandmaster's Association 4A/5A State Championships. The band will head back to Yukon High School for that contest, set to take the field in prelims at 4 p.m.
To read more stories like this, subscribe to the Piedmont-Surrey Gazette by calling (405) 373-1616 or get our E-Edition online!