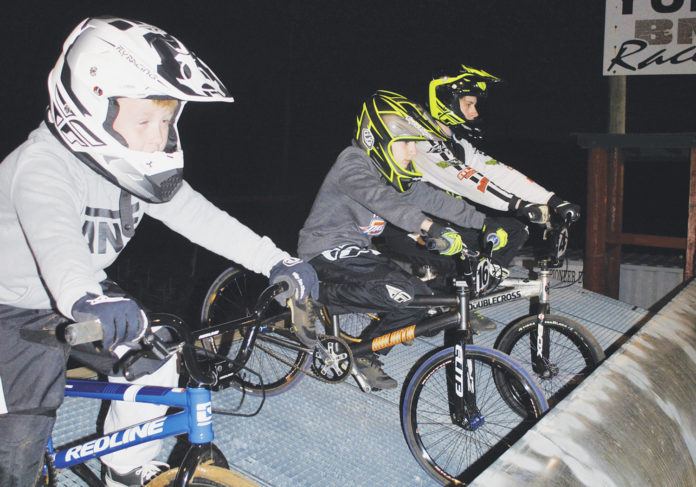 By Mindy Ragan Wood, Staff Writer – Two Piedmont brothers are looking to make their mark in the world, but they're not waiting on adulthood.
Cane Wood, 9, and his brother Cannon, 12, have already set their sights on a future in the Olympics and to continue their quest for world domination in BMX competition.
They're already hitting the track at the Yukon BMX Raceway in Taylor Park ahead of the national competition later this year. The brothers started in the sport six years ago.
Cane is number one in the world for his age category and Cannon ranks sixth. If Cane's career continues, he is on track to become an Olympic competitor for team USA BMX.
"The top goal is to become an Olympic champion," the boy's father Andy Wood said.
The boys spend 15 to 20 hours a week training off and on track. In Yukon, they join fellow competitors on a 1,200-foot track soon to be refinished in February.
Jason Willey, president of Yukon BMX, said the sport is heating up in Oklahoma and BMX has taken notice.
"USA BMX is moving their headquarters to Tulsa by 2020. BMX is big in Oklahoma and our track is the only one in the Oklahoma City metro area," he said. "People don't realize this is a big deal to have this in Yukon. When have state competitions here, we fill up the hotels and restaurants."
Every Tuesday and Thursday night BMX bike racers come to the track to practice their skills and there is a race every Saturday. The race determines the top three competitors of the day.
"Their points are tracked every (race) night and posted to the BMX site. They appear on the website and in the USA BMX magazine," Willey said.
Yukon's track is the second top performing track in the state, determined by membership and participation. The club has about 100 members and the state competitions draw about 2,500 people including racers. This year's annual competition will be held in Yukon June 16-17.
Yukon has shown support for the sport. Yukon officials cosigned on a loan to install a new gate which holds racers safely in place until the start signal.
Several businesses have donated or discounted services to maintain the track including Warren Caterpillar, Dirt Trends, and Markwell paving to name a few. The program is funded by $60 annual membership fees, $10 racing fees, $5 practice fees and sponsor donations.
Willey hopes to see the sport continue to grow locally, saying the sport is an opportunity for children and youth who do not thrive in team sports.
"Not every kid gets a trophy and they're competing against themselves. It teaches them hard work, how to win and how to lose, how to get through ups and downs. It's a great outlet for built up energy," he said.
Andy Wood agrees the sport is a great opportunity for personal development.
"It teaches them to depend on themselves instead of depending on a team. When you're at the top of the hill, it's all on you. If you work hard, train hard and finish first you did your job. If you didn't then you know you need to change something and work harder. There's no one to blame but yourself," he said. "And you're always playing because you're not sitting on a bench. You can go as far as you work for it."
The sport offers more than the reward of hard work in competitive success.
"It's a great way to raise a family," Wood said. "We've been in this for six years. We go to races together as a family. They're spending time with their family instead of spending the night at a friend's house."
Because races can take families all across the nation, children make friends with other races in different parts of the country.
Maddox Taulman said he likes the sport because it's the closest thing to Motorcross, but also because of the friends he's made.
"I have friends in Kansas, Missouri, Austin, Houston, and Tennessee. I plan on racing until I break something," he joked.
His father, Brian Taulman, was also a racer until he broke his collar bone. He approves of the sport for many reasons, including the equality of the sport.
"It doesn't matter how much money you make, winners are not made by popularity…it's the same course for everyone, the same opportunity," he said.