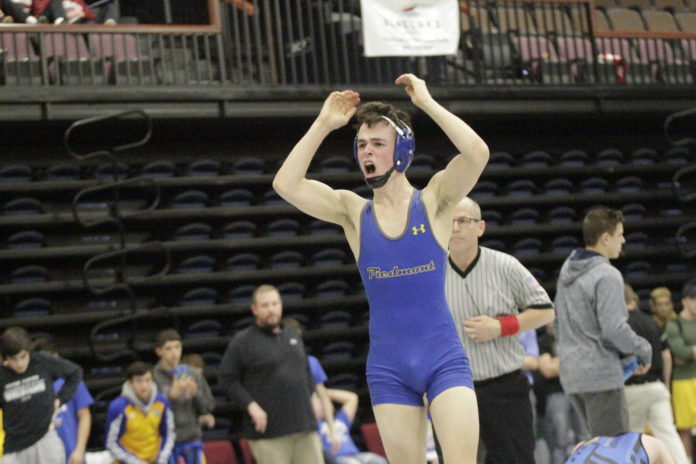 Blake Colston
sports@piedmontnewsonline.com
SHAWNEE – Piedmont's hopes for earning its first-ever win at the Dual State wrestling tournament were left in the hands of a 138-pound sophomore Friday afternoon inside Shawnee's Firelake Arena.
Bryce DiGiacinto delivered for the Wildcats with a 5-2 decision over Pryor's Christian McIntosh to push the fifth-ranked Wildcats past the No. 10 Tigers 30-27.
"He's a quality wrestler for us who's been in the lineup all season," head coach Erik Ford said. "I think we saw him grow up a little bit there."
With all the other duals in the 5A quarterfinals complete, the entire arena focused on DiGiacinto and McIntosh's match.
DiGiacinto, who said it was easily the most important match he'd ever wrestled, pushed his nerves aside and took control early.
He scored the first three points of the match in the first and second periods, and after giving two points back early in the third, iced the win with a reversal in the final 15 seconds.
"Scoring first definitely helped, because after that you feel better about yourself," he said. "It was all about getting the team to the second day."
After the win, DiGiacinto extended his arms skyward, faced Piedmont's fans and let out a roar of excitement.
"That was a lot of fun," he said.
After Pryor earned an unlikely pin at 120 pounds to even the dual at 24, DiGiacinto had a good idea that the dual was going to come down to his match.
"I kind of started to let nerves get in my head a little bit, but my teammates did a good job of calming me down," he said.
Logan Chappell earned a 10-4 decision for Piedmont two matches prior to DiGiacinto's at 126, but Bennett Sherrer won 7-0 at 132 for Pryor to even the score at 27 headed to the final match.
Ford was thankful for the sophomore's clutch performance at the end, which rescued a dual that PHS controlled for the majority of time, but nearly let slip away.
"Kind of relief there at the end because you didn't know what to expect," head coach Erik Ford said. "It wasn't pretty, but it's a win."
Ford didn't think Piedmont put forth its best effort as a team, but said he was proud they found a way to advance.
"There were lots of up and downs," Ford said. "This sure beats not moving on."
Piedmont's widest margin of the dual came after Josh Heindselman earned a third-period fall over Trey Carnes at 220 pounds to put the 'Cats in front 21-6.
A match earlier at 195, Piedmont's Will Heindselman pinned Matt Dale.
From there, Piedmont had a void in its lineup at heavyweight and was pinned at 106, which gave Pryor 12 points and quickly turned the dual into a photo finish.
The dual started with three straight wins by PHS. Thomas Jenkins won 5-2 at 145, Fisher Johnson rallied for a 13-8 decision over Bobby Best at 152 and Braden Culp earned a 6-0 win at 160 to put the Wildcats in front 9-0.
PHS will face top-ranked Lawton Mac in the semifinals at noon on Saturday. The Highlanders routed Glenpool to advance.