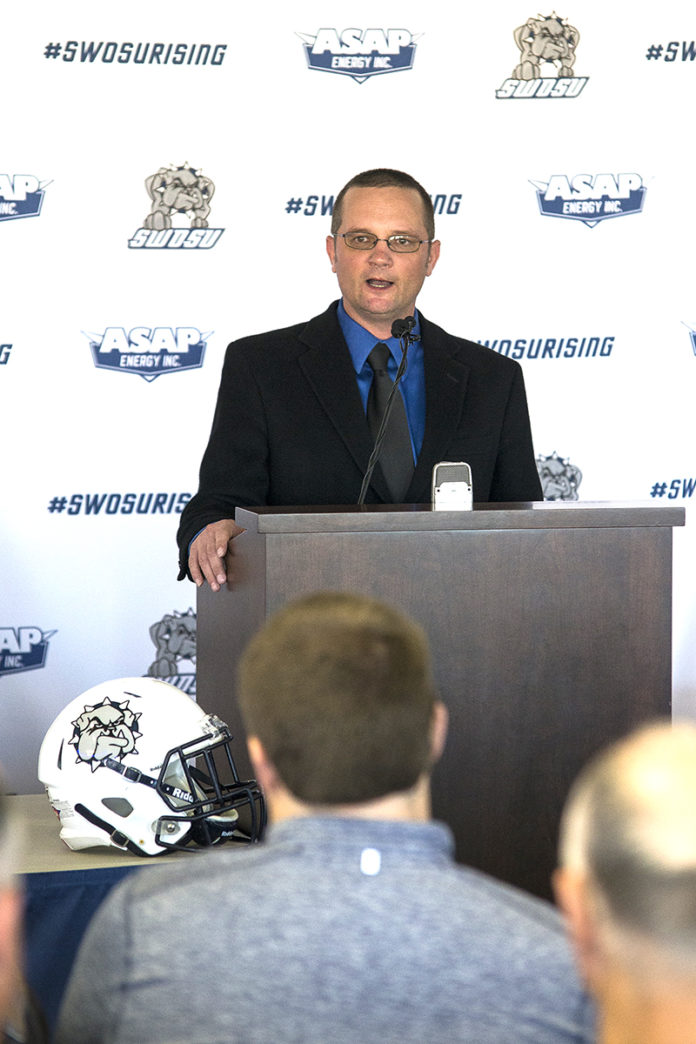 Blake Colston
sports@piedmontnewsonline.com
Chet Pobolish has been on a football sideline somewhere every Friday and Saturday since he was five years old.
Starting next season, Pobolish will roam the sidelines with the title of head coach for the first time.
Pobolish was hired as Southwestern Oklahoma State's 22nd head football coach in program history Nov. 20, replacing veteran coach Dan Cocannouer.
"Chet was somebody who stood out to our search committee very early on and we are pleased that he will become a Bulldog," SWOSU Athletic Director Todd Thurman said. "His coaching experience of coordinating offense and special teams at the NCAA Division II and FCS levels along with his knowledge of our region makes him a perfect fit for our department."
Pobolish most recently served as offensive coordinator and quarterbacks coach at Missouri Western State University for one season.
His desire to be a head coach for the first time led him to Weatherford.
"It's the perfect fit for where I'm at it my career," he said.
A native of Moundsville, W.V., Pobolish played high school ball in southeast Ohio then starred in college at Emporia State in Kansas before beginning his coaching career at his alma mater.
He also coached at Delta State in Mississippi for five years then landed at Southeastern Louisiana before Missouri Western.
Pobolish's ties to Oklahoma, and specifically to SWOSU, are limited, but he plans to change that as his first National Signing Day as a head coach approaches rapidly.
"Our number one priority is to get in every high school in Oklahoma as fast as possible," he said. "You're going to live and breath with the kids in your state. That's what puts people in the stands."
A self-described 'Division II football junkie,' Pobolish has kept up with SWOSU's program from afar. Since being named head coach, he's become more acquainted with the advantages and the challenges of the job, with recruiting ranking as a top priority.
In recent seasons, SWOSU has given up ground in recruiting, especially in Oklahoma, to the University of Central Oklahoma. SWOSU has some inherent disadvantages in recruiting against UCO, namely budget, Pobolish said, but that won't be used as an excuse going forward.
"UCO has a little more resources, but we've got to make up for that with hard work and grit," he said. "I've had to hire guys that are great football coaches here, of course, but also guys that are willing to outwork the competition. In order for us to beat schools like that, we're going to have to sell ourselves to these kids and coaches."
Pobolish said he hasn't let a single text, email or phone call go without a response since he's been hired, and there have been plenty. His message to those with questions about where he intends to take the Bulldogs program?
"We're going to take care of (our kids), they're going to have a good time and they're going to graduate," he said. "We're going to build this thing the right way."
And, Pobolish said, SWOSU is going to be successful.
"I don't like to lose. I came here to win," he said. "We understand that it takes time to build a program, but our expectations here will be to compete for conference championships from the start."
Pobolish spent only one season at MissourI Western after serving as associate head coach, offensive coordinator and special teams coordinator over a six-year span at Southeastern Louisiana University, but made his mark on Western's program quickly.
"I'm super pumped for Chet and his wonderful family. He will do an incredible job there and I wish him the best," Missouri Western State head coach Matt Williamson said. "Southwestern Oklahoma State is getting a phenomenal football coach with exceptional effort. Chet's so much more than just a football coach, he's a great friend of mine and a tremendous person."
Pobolish is finalizing his coaching staff at SWOSU, which included hiring Southeast Missouri State's Jon Wiemers as offensive coordinator that will call plays. Pobolish intended to handle that duty himself, but decided to cede the responsibility.
"I've said for 10 years that when I became a head coach that I would call plays," Pobolish said. "But (Joe) is the one guy I would change that for."
Last season, Missouri Western's offense was run-heavy, averaging more than 200 yards per game, but that was mostly by necessity due to injuries and player dismissals, Pobolish said.
He said SWOSU's offense will be wide open with a preference toward passing the ball out of as many formations as possible. Everything will revolve around the quarterback.
The Bulldogs are set to return their leading rusher, passer and receiver next season.
"We'll be a team that takes risks on both sides of the ball," he said. "We want to be aggressive at all times."