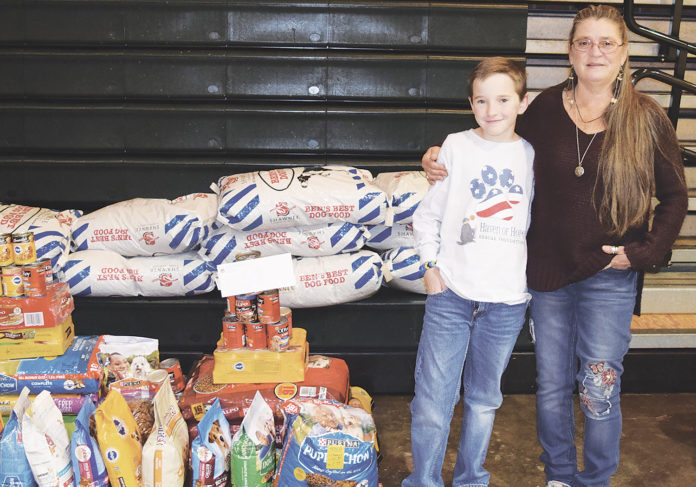 By Mindy Ragan Wood, Staff Writer – A Piedmont area animal rescue shelter received a surprise donation of at least 600 pounds of dry and canned dog food.
Director of Haven for Hope Rescue Foundation Lori Jones said she was pleasantly surprised to see students from Holy Trinity Catholic School of Okarche provide the donation.
Piedmont residents have also recently donated money to erect a new building to expand the facility.
Jones attended an assembly on Tuesday, November 21 when fifth grade student Johnathan Ludwig presented the donation. The student coordinated the dog food drive.
"They did an awesome job and Johnathan has such a good heart. He worked hard and brainstormed this donation drive and presented to his principal, really took ownership and did a great job," Jones said.
Principal Steve Lykes said students collected at least 600 pounds of food, but it's not the first time the school has adopted a good cause. After the Houston hurricane, Holy Trinity chose to adopt St. Anne Catholic School. Students raised $3,000 which was used to help families of the church and school who didn't have adequate insurance. A month later,
Jonathan Ludwig approached Lykes about the dog shelter.
"Johnathan said he had been helping at Haven of Hope. He wanted to help and I asked him what would be the best thing. He said if we could have students bring dog food, that's their biggest expense. I addressed the student body after morning prayers and Johnathan talked to them about bringing a bag or cans of dog food," Lykes said.
The student response and interest in the project drew admiration from both Lykes and Jones.
"It wasn't something that his parents suggested or a teacher, he came in on his own and sat down in the office told me what his idea was and how we could help them out," Lykes said. "Lori Jones couldn't have been more proud if it was his own son. Normally they don't have younger students helping there but he does such a great job with them that he's just a natural."
Jones said Johnathan works hard at the shelter.
"Johnathan helps socialize puppies, helps pick up the grounds, and he's learning a lot about what it takes to operate rescues," Jones said. "It's really important to us to share these experiences with younger people to show love and respect for these creatures as they're growing up."
The shelter serves Piedmont, Okarche, Cashion and other rural areas which often fall prey to unwanted dogs dumped in the area.
The donation of dog food will go a long way at a time of year when the shelter sees a decline in donations.
"Heading into the winter, stocking up on dog food is very important and that will get us through a couple of months," she said.