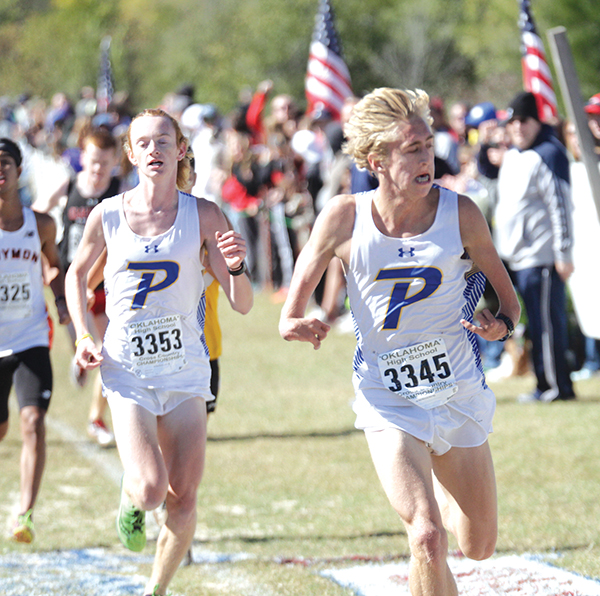 Blake Colston

sports@piedmontnewsonline.com
Piedmont cross country runner Jadon Barker doesn't want your pity, he wants to beat you.
Born without the radius bone in both his arms and without a section of his palate, what might serve as an excuse for others, is something Barker rarely thinks about and never uses as a crutch.
Barker loves to run, so he does. When he's asked about competing with what others might see as a hindrance, Barker is steadfast that he's just like any other runner.
"I've been asked about it before and It's about the running, it's not about anything else," he said. "I've never had too much trouble with it."
In the hallways at school, Barker doesn't ask for help, either, he avoids it. If he drops his books, he wants to pick them up himself. He prefers to do everything on his own.
On the course, he leaves competitors no option but to keep up or get left behind.
"If he's running down the final straight away with someone, he's going to beat them," head coach Kelly Beck said, "that's just the kind of kid he is. It's pretty amazing."
Barker's signature competitiveness was on display as he edged out a pair of runners at the finish line to close the Class 5A state meet strong last week, including teammate Paul Welch.
As he crossed the finish line as a medalist (13th in 17:08) to cap an improbable transformation from a junior varsity runner last season, to a trusted member of the Wildcats varsity squad this season, Barker didn't celebrate.
For the full version of this story and more news, sports, and community stories like it, subscribe to the Piedmont-Surrey Gazette by calling (405) 373-1616.