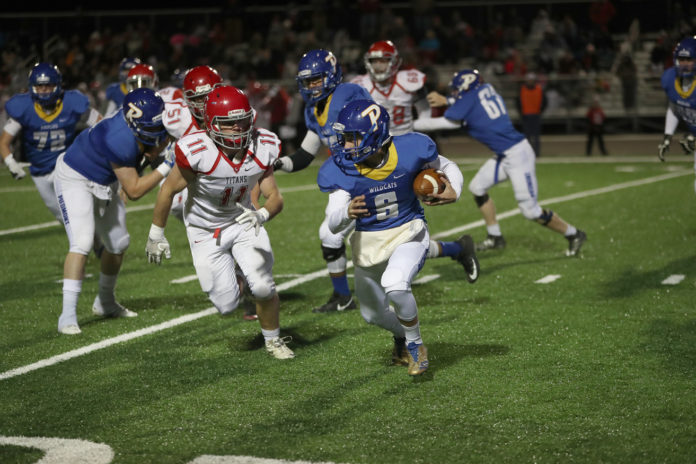 Blake Colston
sports@piedmontnewsonline.com
No. 1 Carl Albert used 110 yards rushing and two touchdowns on eight carries from running back Dadrion Taylor to breeze past Piedmont 39-8 on a chilly late October Friday night at F&M Bank Stadium.
With game time temperatures in the low 40s, the Titans kept the ball on the ground, churning out 239 yards on just 22 carries, while leaning on a dominating defense that limited Piedmont (3-6, 3-3) to 93 yards rushing on 42 attempts.
The Titans were aided by a pair of first-half fumbles from PHS that halted promising drives in a scoreless game that helped turn the momentum.
"When you play a team as well-coached, as athletic and as physical as Carl Albert is, you can't shoot yourself in the foot," Wildcats head coach Trent Worley said. "They're going to take advantage of that."
Taylor scored on a two-yard run to stake the Titans (8-0, 5-0) to an early lead following Piedmont's first fumble and went 57 yards untouched on the first play of the second half to put CAHS in front 26-0.
In between, Oklahoma State commitment Jason Taylor hauled in a 20-yard touchdown reception. He led the Titans with 52 yards receiving. Jaedon Pool added a 5-yard touchdown catch and Diego Richards had a nifty catch and run for a 21-yard score.
Quarterback Ben Harris wasn't asked to throw much, but was effective when he did. Harris finished 11 of 14 passing for 154 yards and three touchdowns.
Carl Albert had 393 total yards to Piedmont's 233. After Friday, Carl Albert has allowed 14 points in the last five games.
The Titans led 20-0 at half and extended their lead to 39-0 before Piedmont recorded a safety to break the shutout and a fourth-quarter touchdown run from Colby Matlock to provide the final margin.
Matlock, who's scored four touchdowns in the last two weeks, had 57 yards on 14 carries.
Piedmont used three different quarterbacks in the game – Junior Garrett Morris, sophomore Dylan Hampton and freshman Joey Mars – who combined to go 7 of 12 passing for 140 yards with one interception.
"We want to create competition from within," Worley said of the quarterback situation. "I want them to be comfortable and confident, but also I want them to keep striving to get better."
Morris was in the game for Piedmont's only touchdown drive in the fourth quarter and helped set up Matlock's plunge with a 26-yard completion to T.D. Smith.
"Our kids played hard tonight," Worley said. "I'm proud of them for that. That says a lot about the character of our kids."
The loss to Carl Albert combined with Guthrie winning at Woodward on Friday, means Piedmont must beat Bishop McGuinness in its regular season finale on Friday in Oklahoma City, or hope that Guymon upsets the Blue Jays to make the playoffs.
"McGuinness is going to be another well-coached team, so we'll have our work cut out for us," Worley said.