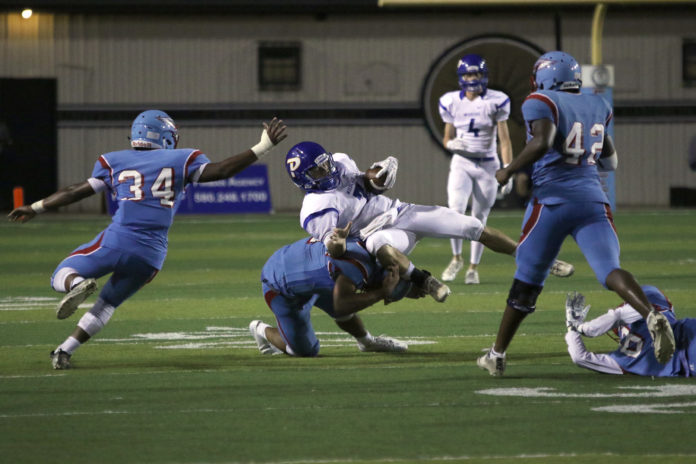 Blake Colston
sports@piedmontnewsonline.com
LAWTON — Piedmont's Garrett Morris heaved the ball as far as his right arm would allow.
Receiver Jack Chester leaped with both arms extended in a crowd of Lawton Ike defenders at the goal line.
Incomplete. Game over.
Ike quarterback R.J. Fisher ran 20 times for 160 yards and two touchdowns and completed 8 of 14 passes for 102 yards and a touchdown as the Eagles held off a furious fourth-quarter rally from Piedmont to win 26-21 Friday night at Cameron Stadium.
Morris' Hail Mary attempt was the final act in a wild comeback attempt from Piedmont in the final minute that began with a 25-yard touchdown pass from Morris to Bryson Ensmigner with 0:40 left.
Kicker Tanner Knight recovered his own onside kick on the ensuing kickoff to give the Wildcats (1-4, 1-1) a final chance, but Morris' 55-yard prayer toward Chester went unanswered as time expired.
"We were right there till the very end and that's a credit to our kids' character," head coach Trent Worley said. "I can't be more proud of my kids. I just wish we could've made made a few more plays at the end and gotten the win."
Chester caught a pair of touchdown passes from Dylan Hampton as Piedmont rallied from a 19-0 deficit in the first quarter to pull within 19-14 on an 8-yard reception from the junior wide receiver with 4:36 to play in the third quarter.
"That's the type of play we expect out of Jack," Worley said of Chester, who caught two passes for 28 yards.
Ike's Kenneth Graham answered Chester's second touchdown with an 80-yard kickoff return for a score to extend the lead back to two scores, which continued a one step forward, two steps back trend for the 'Cats.
PHS trailed 13-0 before ever touching the ball Friday. Fisher ran 69 yards for a touchdown on Ike's first drive to give the Eagles a 7-0 lead, and Piedmont never had a chance to field the ensuing kickoff, which bounced around the 25-yard line and was scooped up by Eisenhower's Mark Berry.
Fisher cashed in the special teams mistake for the Eagles (2-3, 2-0) with an 8-yard touchdown run five plays later.
"It's kids learning. It's not like we tell them to run away from the football," Worley said. "They were just trying to execute their blocks, but weren't aware the ball was kicked right at them. It's stuff we can learn from for sure."
Fisher found Kinyon Parker for an 8-yard touchdown pass to give Eisenhower its largest lead of the night, 19-0, with 5:10 to play in the first quarter.
Fisher was hard for Piedmont to contain in the first half, but managed just 15 yards rushing in the second half.
"Once our defense settled in, they played awesome like they have all season," Worley said. "We had to get used to the speed of the game. That took us a while, but we had a chance at the end."
Piedmont's Davontae Pickard ran for 109 yards on 17 carries. Colby Matlock added 47 yards on 10 totes. Morris finished 6 of 17 passing for 72 yards and a touchdown. Hampton was 2 of 2 for 28 yards and two scores.
Piedmont plays at Guymon Friday.
For more sports stories like these, subscribe to the Piedmont-Surrey Gazette for only $39 a year.  Call (405) 373-1616 for details.