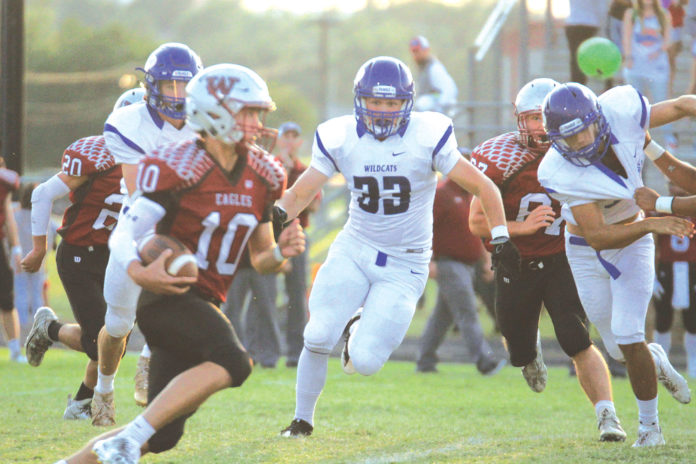 Blake Colston, Sports Editor – WEATHERFORD — It was bone dry Friday night in Weatherford, but Piedmont's offense got stuck in the mud.
The Wildcats totaled just 45 yards in the second half and gave up a safety as Weatherford rallied from a 6-0 halftime deficit to win 9-6.
"That falls on us as coaches. We didn't have them prepared tonight," head coach Trent Worley said of the sluggish performance on offense. "I think it's execution more than anything. We struggle to get lined up, just simple execution stuff."
Ethan Downs accounted for nearly all of the Eagles' offense. He ran 26 yards for a score on Weatherford's first possession of the second half to put WHS on top 7-6 after the extra point. Downs rushed for 50 yards on eight carries.
He struck on the other side of the ball in the fourth quarter when he sacked Piedmont quarterback Garrett Morris in the end zone for a safety with 6:34 to play.
Piedmont (0-2) totaled 236 yards of offense in the game while Weatherford (2-0), which was stifled on offense itself for a majority of the game, was held to just 170.
"The defense has kept us in the ballgame for two straight weeks," Worley said. "Hats off to them, they're playing their rear ends off and we have to do something on offense to help them out."
The 'Cats offensive line was dominant at times last season and returned seven of its top eight players this year, but the group didn't have its best night Friday. PHS ran for 162 yards, but gained less than four yards per carry.
"They were having trouble identifying things and blocking people," Worley said.
PHS used three quarterbacks in the game, though not necessarily out of desperation.
Morris started andwas spelled by sophomore Dylan Hampton who took snaps as a running threat early in the game. He did not throw a pass and lost 13 yards on three carries.
Jackson Kennedy entered in the fourth quarter after Morris left the game with an injury (ankle) for the second time in as many weeks. Kennedy was 1-for-2 passing for six yards.
Morris finished 5-of-14 for 68 yards with one interception. He ran for 30 yards on six carries.
The Wildcats took the ball to Weatherford's 40-yard line on their final possession of the night thanks to a pass interference call drawn by Jack Chester, but back-to-back running plays with less than a minute to play lost five yards and forced Piedmont to burn its final two timeouts. Kennedy threw incomplete to McDaniel on 4th-and-15.
Colby Matlock put Piedmont on top 6-0 with 0:14 left in the first quarter with a 7-yard touchdown run setup by Morris' 35-yard pass to Rylan McDaniel. After that, Piedmont's scoring chances were scarce.
Headed into Week 3 with a home game against Noble on tap, Piedmont's offense appears to be back at the starting blocks.
"We're going to get on the film and see who's doing their job and who isn't," Worley said, "and the best guys will play."
For the complete story, subscribe to the Piedmont-Surrey Gazette for only $39 a year!  For details call (405) 373-1616.