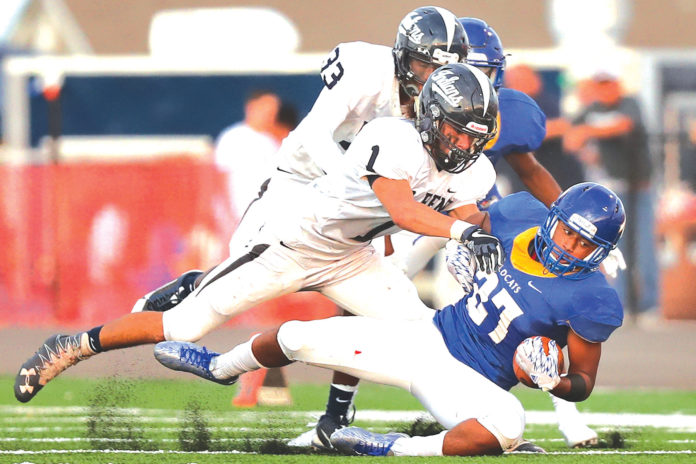 Blake Colston, Sports Editor – Piedmont's five first-half turnovers did plenty of damage to the cause Friday night, but the Wildcats' sixth and final giveaway sealed their fate in a season opening 27-14 loss to El Reno at F&M Bank Stadium in Piedmont.
Dakota Wilson stepped in front of a Jackson Kennedy pass in the fourth quarter and returned the ball 42 yards for a score to give the Indians the lead for good as El Reno avenged last year's season opening loss to Piedmont.
"This helps solidify all the things we're doing," first-year El Reno head coach Chuck Atchison said. "This makes you feel like, as a coach, the kids are believing in what you're asking them to do."
El Reno iced the game on a 1-yard sneak from quarterback Gage Armold with 1:59 left. The senior quarterback rushed for two scores and threw for another on a night he was 8-of-17 passing for 106 yards.
"We stuck with it and believed and finally put the game away late," Atchison said.
For Piedmont, the game was filled with what-ifs and miscues. The 'Cats took points off the board with a penalty, fumbled inside El Reno's five-yard line once, inside the Indians' red zone another time and were intercepted at the El Reno 20-yard line as well.
"The bottom line is, you can't beat yourself and we contributed to our own demise tonight," Piedmont head coach Trent Worley, who coached his first game at PHS, said.
Making his first career start, Piedmont quarterback Garrett Morris completed 5-of-8 passes for 108 yards, but played just one drive in the second half after suffering an eye injury late in the second quarter. The junior is expected to be available next week at Weatherford.
"Proud of him," Worley said. "He tried to go, but his eye kept watering up and he just couldn't see very well."
PHS outgained El Reno 333 to 284, but couldn't get out of its own way, particularly in the first half.
For the complete story, subscribe to the Piedmont-Surrey Gazette for only $39 a year!  For details call (405) 373-1616.