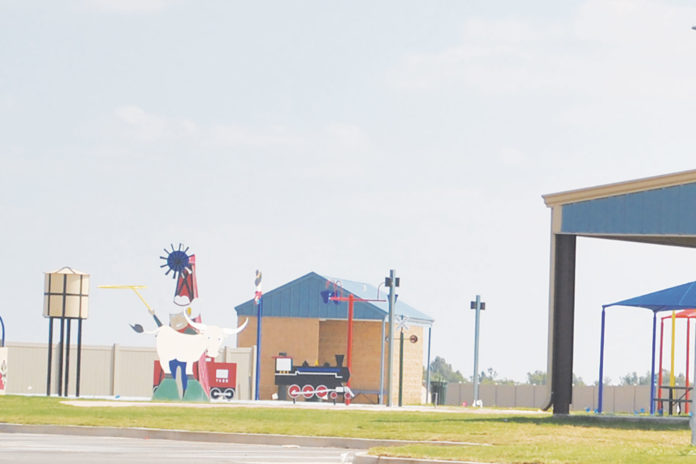 By Tim Farley and Mindy Ragan Wood – An attorney for Texas-based See Spray, LLC, is preparing to file a federal lawsuit against representatives of the Piedmont Park project.
The law firm of Terri M. Garcia, of Houston, Texas is representing See Spray of Pearland, Texas in a dispute about allegations the Piedmont group defaulted on payment for the park's splash pad. Earlier this week, Garcia sent a letter to park representatives that the firm was preparing to file a lien.
Addressed in the notification are the Piedmont Library and Cultural Events Society, DBA Piedmont Park Project, the Piedmont Municipal Authority, Eric Anderson, Phil Boevers, Terry Anderson, Paul Francel, Tona McVicker, Sandra Speck, and Rebecca Anderson.
Garcia said she intends to file the lawsuit "in the next five or six" days.
See Spray began performing work "on or about May 15, 2016" for Piedmont Library and Cultural Events Society." The amount of the claim is higher than the original invoices sent to the park project officials. For labor and equipment the original amount due was $63,920 but because of the alleged non-payment, donated equipment and a 30 percent discount was reversed. The total amount charged back is $82,000 for a total of $146,780.
Park developers paid See Spray $64,800 when the project began, but refused to make additional payments, Garcia said.
"My client donated $60,000 worth of work and items," the attorney said. "This is just dirty business."
Garcia acknowledged the company failed to apply a coat of Kool Deck, which is needed in the Oklahoma climate, but not in Houston. Kool Deck provides a smooth finish to the splash pad floor.
"It wasn't done correctly, so my client went up there to finish the job but that was only $3,000 to $5,000 of the total cost. When they got up there (to Piedmont), they were not allowed on the park ground. Mr. Boevers called the police and began throwing expletives around at the crew."
Garcia mentioned Boevers and F&M Bank officials Terry Anderson and Eric Anderson as three primary representatives who reportedly promised they would pay See Spray if the company finished the job.
"My client spent almost everything he had. He specifically designed the electronic package for the splash pad," Garcia said.
Supplied labor and equipment are listed in detail in the notice. They include several water spray geysers, an interactive water tower, decorations such as the cowboy and Native American silhouette, a windmill, wagon, bucket dumps, water management manifold, concrete benches, picnic tables, shade structures, and more.
The amount of the claim could exceed $146,780 as the law firm intends to seek compensation for attorney fees and court costs.
"This amount is just and reasonable and has not been paid," the notification reads.
F&M Bank President Eric Anderson has donated his time to assist park board members on the project. He told the Piedmont-Surrey Gazette that park board members and volunteers have declined to comment.
"We do not comment on ongoing litigation," he said.
However, Anderson later told the newspaper he was at a "loss for words" when he received the pre-lien notice."
"They (See Spray) want to hit us where it hurts and that could delay the project," he said.
Prior to press time, the Piedmont-Surrey Gazette received a text that reads, "Statement to Gazette. We are prepared to demonstrate that such an action is without merritt (sic). Terry Anderson." The message was sent from Eric Anderson's private cell phone.
Calls to Boevers, who is overseeing the construction of the park, were not returned at press time.
In August, Eric Anderson said he hoped to have a park completion date soon, but declined to provide a time frame.
There have been several delays to construction. Requirements by the Oklahoma Department of Environmental Quality delayed the water system installation for the splashpad. DEQ required a commercial run off or waste water system.
Subscribe to the Piedmont-Surrey Gazette by calling (405) 373-1616 or sign up for the E-Edition today!