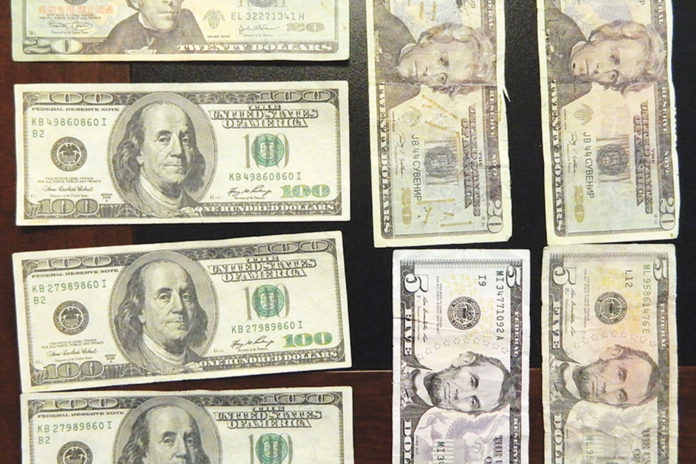 By Mindy Ragan Wood, Staff Writer – Counterfeit money that has been circulating the Piedmont area has had a loss impact of just under $1,000 police officials said.
"We're working on it," Chief Scott Singer said, "It is still being investigated. We have possible suspects and we are moving forward. We have collected all the bogus bills that have been passed to our knowledge that have been reported to us."
The two hardest hit businesses include Sonic and Dollar General. Singer reported that several hundred bogus bills were passed to Dollar General. Last week, Williams grocery store manager reported they had a counterfeit $20 come through the store, which was caught by their bank. Stones Hardware and Piedmont Pharmacy Gifts reported no incidents in their stores.
Singer seems confident the investigation will lead to more than one arrest. At least one suspect has been recorded on video surveillance footage.
"With that we have info that should lead us to the identity of the suspects involved. We believe there are more than one actor involved in separate scams with the bogus bills. We have good evidence and we have solid leads on the actors. We believe there are going to be several incidents of these crimes passing bogus bills," he said.
The Secret Service has been assisting the Piedmont police department in its investigation.
"We thank the Secret Service for their assistance and in helping identify the forgeries and the bogus bills. We may at the end defer the case to the Secret Service for further action if it involves a federal violation."
Singer cautions the public to trust their instinct if a bill appears bogus.
"If the bill is questionable, if it doesn't feel right, look right, had some other writing on it…those kinds of bills are out there," he said. "Obviously counterfeiters have a number of tricks to make the bill passable."
Police officials have been providing education materials to merchants to assist them in spotting anything that looks suspicious coming across the counter for payment. They provided an image sheet showing bills and the possible defects in counterfeit money.
"There's a number of handy pieces of information that we were able to pass out to our merchants…to be aware, have something they can refer to and they can take a look at," he said. "Educating the public about crimes and what to look for and how to look for it is as much of our job as writing tickets. Education is a huge part of our job."
The Canadian County Sheriff's office arrested a suspect four weeks ago who had counterfeit money in $50 and $100 bills. Captain Adam Flowers said last week he did not believe the Piedmont incidents were connected to the prior arrest. Singer said deputies had not contacted them regarding the local investigation.
Signs of bogus bills include blurred ink along the borders, on the printing or text. Authentic U.S. notes have raised printing, so the texture is raised in some places and smooth in others. Legal tender also has a water mark with the president's face that matches the bill.
The watermark is visible only when you hold it up to the light and appears on the right side.
A security thread is also visible under a black light. Newly printed $100 bills have a security ribbon down the right middle of the bill that is three dimensional. Pens for marking cash as a test are available at office supply stores.
Anyone who discovers a counterfeit bill should separate it from other bills and contact the police at 405-373-1334.